Technical Illustration
As the preferred choice of technical illustrators in precision industries, Canvas 14 comes with all the powerful vector object illustration and advanced raster image editing tools you need, in one integrated, flexible design environment.
---
Technical Illustration and Enhancement with Greater Control
Work with vector and raster images
Canvas' integrated design environment lets you work with both vector graphics and raster images in the same document, with the same powerful enhancement tools.
Draw and Edit with Precision
Resize and scale objects, add fill and stroke inks, widths and other attributes, and draw shapes – all with measured precision and placement. Take advantage of specialized tools to draw complex shapes including rounded rectangles, complex polygons, cubes, spirals, grids and rectangular boxes in isometric views. Draw and edit paths and curve segments using the control points that define them.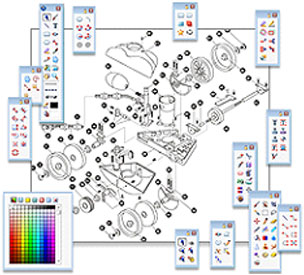 Add on-the-fly illustration objects
Instantly add re-usable dynamic objects to drawings. Access thousands of commonly used and specialized technical symbols from Canvas 14's pre-loaded Symbol Library collection, or create your own custom symbols using any vector, text or composite object.
Symbol categories include:
Buildings
Cartography
Electrical
Energy
Environmental
Transportation
Landscaping
Oil & Gas
Flowchart symbols
Forensics
Home & Office
Hydrologic
Laboratory Equipment
Packaging & Shipping
Power Utilities
Mining
---
Work flexibly with vector objects
Illustrate, edit and augment all forms of complex visual objects with Canvas 14's wide variety of professional tools and powerful Sprite technology. Canvas' proprietary SpriteLayers™ and SpriteEffects™ can be used to apply image and transparency effects without rendering; all your graphics remain completely editable. Specialized technologies such as channel masks, vector masks, gradient transparency tools and opacity effects are also available for advanced techniques.
Access raster image editing tools
Create, edit and augment raster images, including GIF, JPG, TIFF, PICT, BMP and EPS, with a host of industry standard and specialized techniques, tools and filters. Design image compositions, retouch photos, paint and color-correct scanned images, create transparency effects, clone pixels and much more.
Do more with CAD files
Canvas 14 gives you a 3D View and CGM support, as well as CAD-inspired dimensioning tools, creating a seamless complement to AutoCAD® environments. Feel free to size, scale and manipulate CAD objects in the Canvas environment without any loss of data.
Paste Into command
Paste almost anything into a selection within an image, including a selection of a raster image channel, or of a channel mask that's attached to another object.
Edit geometry and position data
Completely control vector object coordinates to ensure the accuracy demanded in many engineering and scientific work environments. Create illustrations from geometric data alone, or blend these precise data controls with more traditional illustration techniques in one seamless work environment. At any time, you can view a vector object's exact width, height, position, reference point and other coordinates via Canvas 14's Properties Bar, and adjust its numerical position for true precision.
---
Create rich data flowcharts
Present visually complex information in a logical and easy to understand format. With Canvas 14's Flowchart palette you can design data flowcharts with unprecedented speed and flexibility. Simply select your symbol size, shape and SmartLine™ attributes, and click to place. Customize your flowchart with connection line and shape editing options to complement the overall look and feel of your document.