SHARE
Canvas 14 makes it quick and easy to share your vision with professional publications and presentations, and to work collaboratively with colleagues.
---
Access professional publishing tools
There's no need to use a separate word processor or layout program when you have Canvas 14. A full range of traditional text formatting and style tools are on hand to help you format pages, create columns, layout text, wrap and bind. Tap into editing, proofing and annotation tools to perfect your copy.
Create documents for every purpose
Canvas 14 offers time-saving templates to make it easy to get a head start on any project: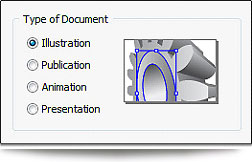 • IIlustration documents are used for all forms of vector object illustration and raster image creation and editing.
• Publication documents let you easily create single or multiple-page technical publications, including two-sided facing pages. Use master pages to hold common page elements. And when you are ready to print, Canvas 14 gives you all the print and color management tools you need for professional-looking output.
• Presentation documents are for on-screen slide-show presentations. Apply multiple layers, place background elements on a master slide, and choose from over a dozen slide transition effects.
• Animation documents are designed for the creation and editing of web (GIF) animation files. Frames adjacent to the current frame appear in the background, helpful for setting up object movement.
---
Collaborate with ease
Share, discuss and develop projects with colleagues in a free-flowing document exchange. Canvas 14's advanced import and export capabilities allow for the return of annotated illustrations to the high-end specialized formats where they originated, without data loss.
Share with confidence
Apply secure encryption and password protection whenever you save your Canvas document or export to Adobe®PDF. You have full control over who can open, edit and print your designs, and your rich Canvas data. Canvas editing ability can be preserved, even through the PDF conversion process.
---
Preserve Canvas data in a PDF files - NEW
Convert your Canvas 14 document to a PDF file for sharing or storage and the native Canvas data will remain imbedded in the file. Re-open your file in Canvas for further editing, with no loss of your data or formatting.
Print professionally
With Canvas 14, you can rest assured that your projects will look as good on paper as they do on screen. Canvas outputs multi-page Publication documents suitable for desktop and commercial printing, including PostScript printers. Professional print and color management tools, as well as all the advanced image and export formats needed for virtually any publication context, are all on hand. Avoid problematic color shifts and unexpected results by using the Kodak® color management system to handle conversion between color systems, such as RGB and CMYK.
Add interactivity to documents
With Canvas 14's Link Manager palette you can insert hyperlinks, and export to HTML and Adobe® PDF with links intact. Web publishing is supported by HTML and WebCGM files.